We specialize in implant placement. According to the American Association of Oral and Maxillofacial Surgeons (AAOMS), dental implants have a success rate of 95% when placed by a dental specialist.
Although having a beautiful smile and the confidence that comes with that are important, there are also important health reasons to have dental implants. Whether replacing one tooth or several, implants are an important solution to restoring and maintaining dental health.
Once a tooth is lost, several things begin to happen that are not immediately noticeable to a patient and which can have a significant negative effect on both health and appearance. Tooth roots help hold teeth in place but they are also critical in maintaining health in the surrounding gums and supporting bone structures. Bone loss in the jawbone is one of the significant problems that naturally occurs once a tooth is lost. This bone loss can compromise the integrity of neighboring tooth roots and tooth stability. This bone loss is also a large part of what causes the "sunken" look that is seen in people who have lost several or all of their teeth. It is the reason patients who wear dentures find that over time their dentures are harder and harder to fit and keep in place.
Dental implants help maintain and strengthen bone structure. This means they do much more than replace the missing tooth – they also protect the existing teeth by helping to preserve bone structure.
---
---
---
Whether you have lost one tooth, several teeth, or have been living without teeth for years, dental implants can help improve the quality of your life. Dental implants are used to replace tooth roots. Implants provide a strong foundation for fixed or removable replacement teeth. Dental implants are small anchors made of biocompatible metal, called titanium, placed in the jawbone. The anchors begin to fuse with the bone over a few months. After the fusing process, known as osseointegration, abutment posts are inserted into the anchors to allow for the attachment of the replacement teeth. To fabricate the replacement teeth, an impression is taken by your general dentist and a model of the bite is created. The replacement teeth are based on this model. Replacement teeth can either be crowns, bridges or dentures.
---
What are Dental Implants?
---
Dental implants are artificial tooth replacements that are used to counter tooth loss. It is generally made of titanium and covered with a porcelain crown or a bridge to give the appearance of real teeth.
They are designed to provide a foundation for replacement teeth which look, feel and function like natural teeth.
Dental implants restore the ability to eat virtually anything
Teeth appear natural that facial contours will be preserved
Patients with dental implants can smile with confidence.
You could have new teeth in one day
Please be advised that Paramount Oral Surgery only performs the surgical placement of dental implants. Our surgical dental implant fee does not include the crown/abutment (top part of implant above gum) which is not performed in our office. The crown/abutment is performed in your dentist's office and all fees related to that specific service will be billed to you by your dentist. Please discuss the fees for the crown/abutment portion of the dental implant with your dentist.
---
Why Dental Implants
---
Dental implants are the most predictable and conservative ways of replacing missing teeth with the best long term success
Implants do not decay
Adjacent healthy teeth do not require crowns to support them
Gum tissue and underlying bone are more likely to remain healthy
---
The Surgical Procedure
---
For many patients, the placement of dental implants involves only one surgical procedure
First, implants are placed within your jawbone and allowed to bond with your jaw bone for about 3 months
You will be able to wear a temporary prosthesis during this 3 month period so that you never have to be without teeth; we have a high regard for the esthetics and facial appearance of our patients
After the implant has bonded to the jawbone, the second phase begins
Your dentist will attach an abutment to the implant which will act as anchor for the artificial teeth
The crown will then be cemented or screwed into the post achieving a highly esthetic final result
The entire combined procedure, by our oral surgeon and your dentist, usually takes about 4 months
Most patients experience minimal disruption in their daily life
---
Surgical Advances
---
Utilizing the most recent advances in dental implant technology, our surgeons sometimes are able to extract a tooth and place an implant at the same time. However, sometimes this is not possible and the extraction site needs to be augmented with bone prior to implant placement. The augmented bone needs to bond to your jaw bone for about 3 months prior to implant placement. The bone utilized is mostly from a cadaver that has gone through rigorous processes to ensure an infection free environment. We can utilize your own bone as donor bone but this creates an additional surgical site.
There are select cases where we can place implants and provide an immediate restoration that same day.  This is sometimes referred to as teeth in a day or immediate loading.  The advantage is that the patient does not have to wait that 3 month period for the implants to bond to the bone prior to placing the teeth on the implants.  In summary, the patient comes in the office has the implants and teeth placed that day without ever having to go one day without a prosthesis (teeth).  The quantity and quality of the jaw bone has to be very good for us to utilize this highly efficacious and esthetic technique. Keep in mind this procedure is only available for patients who are receiving a full set of teeth (upper or lower) rather than just one dental implant or tooth.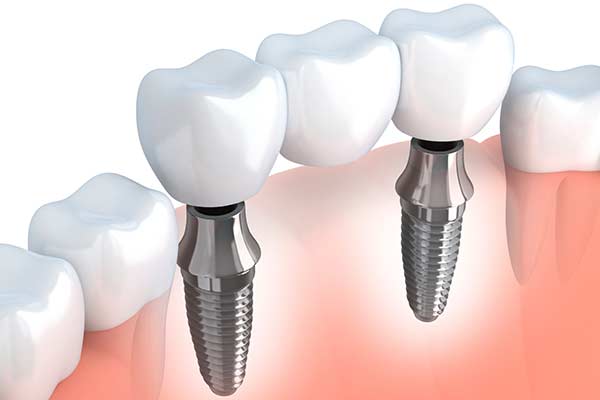 ---
An implant supported bridge is a restorative solution for spaces where three or more adjacent teeth are missing. The bridge replaces multiple adjacent missing teeth without the use of a denture. This restoration typically requires two implants to support the porcelain bridge. The bridge provides a functional and aesthetic replacement for the patient's natural teeth.
---
Full Mouth Dental Implant Restoration
---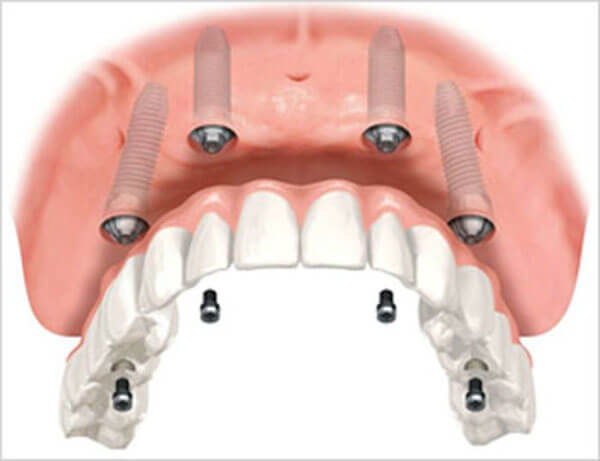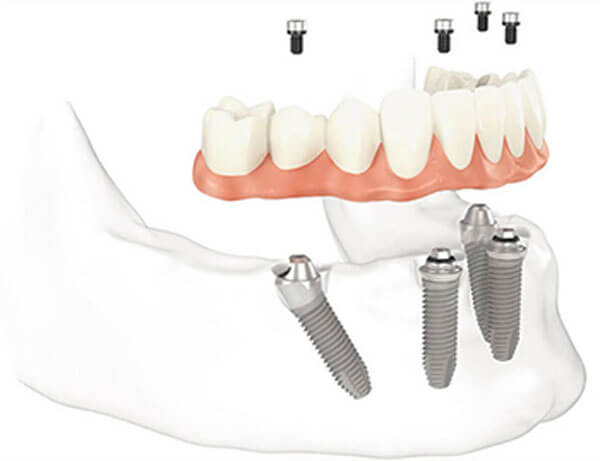 ---
Full Mouth Dental Implant Restoration, also known as the Custom Implant Smile treatment concept, is a unique implant solution that allows patients who are missing all of their upper or lower teeth to replace a full arch of teeth using implants as "anchors".
This technique offers many advantages over traditional dentures.
Easy to care for, the All-On-4® treatment concept can simulate the look and feel of natural teeth and stay fixed in place with the implants acting as anchors. Patients will not experience the typical rocking and movement or gum irritation associated with dentures. Patients can often leave the same day with a full arch of teeth, reducing both overall cost and healing time for the patient.
Dental implant placement can help alleviate the sunken look that can occur with bone loss in the jaw by stimulating bone growth in the area around the implant. This process is called osseointegration and can also help prevent future bone loss.
With Full Mouth Dental Implant Restoration, there is no palate covering the roof of the mouth, so speaking and eating are more natural and comfortable than with a traditional denture.
---